UXS Multi-Exercise Station
The UXS is a heavy duty bodyweight exercise station designed to work all major muscle groups effectively, efficiently, and safely without taking up a lot of space. It is ideal for gyms, personal training studios, athletic training facilities, military, police, and fire department training centers, and anyone who requires maximum utility and durability from their exercise equipment.
The UXS can be used to perform all of the following exercises and more:
Pulling:
Chin-Up
Pull-Ups (overhand, parallel, and close parallel grip)
Rows (parallel, overhand, and underhand grip)
Inverted Arm Curl
TSC Pullover
TSC Rear Delt Fly
TSC Arm Curl
Pushing:
Parallel Bar Dip
Push-Ups (parallel and normal, narrow, or wide overhand grip)
Pike Push-Up (with angled handles and foot brace)
Handstand Push-Ups (with roller pad for leg support)
TSC Chest Fly
TSC Lateral Raise
TSC Triceps Extension
Hips & Legs:
Squats (regular, hack, sissy, and unilateral with balance support)
Hip Raise
Reverse Hyper Extension
Leg Extension
Leg Curl
Heel Raises
Trunk & Neck:
Back/Hyper Extension
Leg and Knee Raises (Hanging or Support)
Crunches (Regular and Reverse)
TSC Neck Extension
TSC Neck Flexion (front and lateral)
Efficiency
In addition to being highly space efficient workouts on the UXS are extremely time efficient. Because you can perform exercises for all major muscle groups and move between them in seconds it is possible to complete a full body workout in a very short time. You won't waste time running back and forth between different pieces of equipment or making complex adjustments to work different muscle groups.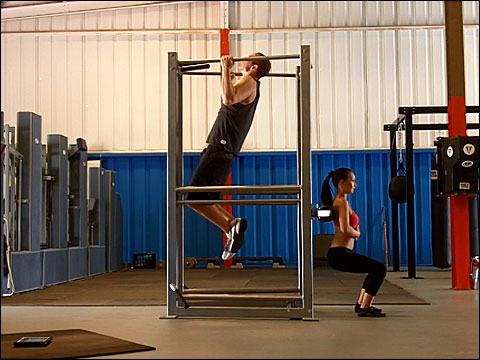 Stability
Unlike many other bodyweight exercise stations the UXS will not shake, wobble, or bend or otherwise move during use. Having a stable platform means you can focus on correct body movement and muscle contraction during exercise, not on constantly adjusting your balance or trying to stop the station from tipping.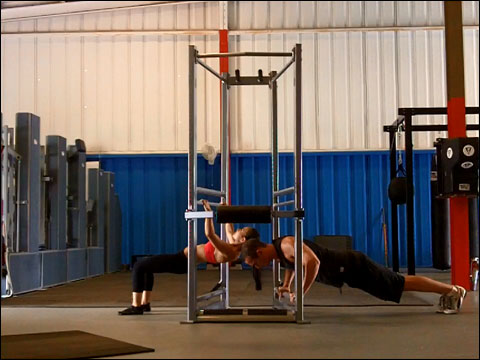 Multiple Users
Up to three people can simultaneously perform various combinations of exercises on a single UXS, making it a space efficient tool for couples and small group training. Multiple UXS's can be connected in various configurations with additional high bars for chin-ups, pull-ups, or to suspend other training apparatus.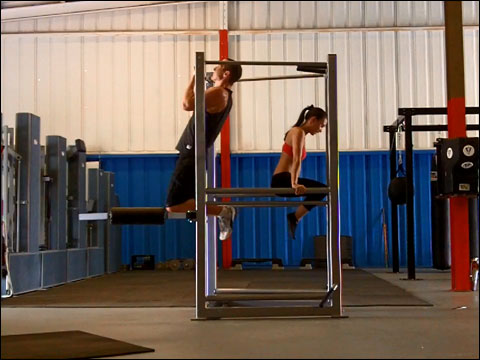 Features
Biomechanically-correct bar and handle angles provide comfortable hand and wrist positions at variable widths to accommodate different user sizes and hand spacing preferences.
Larger diameter bars reduce pressure on palms during pushing exercises.
Bars for pulling exercises sized for both grip security and comfort.
Padded roller provides support and balance assistance for a variety of upper and lower body exercises.
Heavy gauge cold rolled steel frame provides a sturdy, stable platform.
Durable textured powder coat finish comes standard in black, white, gray, and silver.
Padded roller upholstered with high grade, bacteria-resistant, easy-care BoltaFlex with PreFix protective finish comes standard in black, gray, fire red, navy, bright blue, hunter green, purple iris, yellow, orange, and brown.
Assembled dimensions: 56" L x 40" W x 84.5" H
Minimum space required for all exercises (for a single user up to 6'4″): 7′ L x 7′ W x 8′ H
Weight: approximately 250 lbs.
Ordering
The UXS is $1,495 USD
Goalder Transportation will deliver a UXS anywhere in the contiguous forty eight states for between $300 and $400 or we can arrange for another delivery method for you.
If you have any questions about the UXS or if you would like a get a quote on custom frame or upholstery colors, shipping outside of the contiguous forty eight states, or different shipping options contact me at drew@baye.com
Buy Now
Use the form below to order a UXS with standard frame and upholstery colors for shipping within the contiguous forty eight states. Each UXS is built to order, usually within two weeks to complete. Shipping time varies depending on the Goalder Transportation delivery schedule.
The UXS bodyweight multi-exercise station is currently unavailable while I look for a new manufacturer. Please contact me at drew@baye.com if you would like to be notified when the UXS is available again or if you have any other questions.