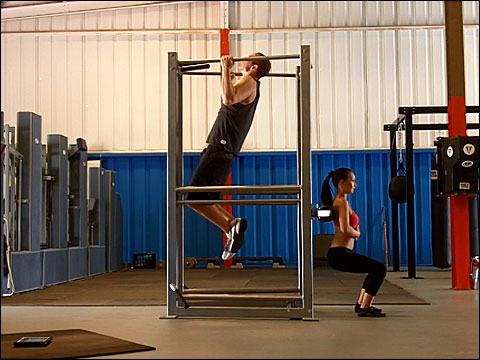 The UXS is a bodyweight multi-exercise station designed for maximum versatility, efficiency, and stability in a small space. 
Work all your muscle groups with a variety of exercises on one station
The UXS can be used to perform dozens of bodyweight exercises working every major muscle group. Angled bars and handles provide comfortable hand and wrist positions at variable widths to accommodate different sized users. Padded rollers let you vary your body angle for push-ups and rows and perform a variety of isometric exercises.
Spend more of your time working out and less setting up or moving between equipment
You can perform a full-body bodyweight workout on the UXS without having to change attachments or make complex adjustments to perform different exercises. How quickly you move between exercises is only limited by your conditioning and discipline.
Stability
The four-column, heavy-gauge steel frame will not shake, wobble, rock, or flex so you can focus more on effectively working your muscles and less on maintaining your balance. Padded rollers can be used for support or balance assistance during a variety of exercises making them safer and more effective.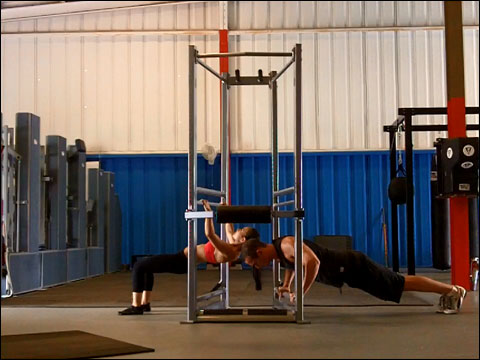 The UXS can be used to perform all of the following exercises and more:
Pulling:
Chin-Ups
Pull-Ups (overhand, neutral, and close parallel grips)
Inverted Rows (overhand, neutral, and underhand grips)
Inverted Arm Curls
Pushing:
Parallel Bar Dips
Push-Ups (overhand, neutral, and underhand grips)
Pike Push-Ups (with angled handles and foot brace)
Handstand Push-Ups (with padded roller for leg support)
Hips, Thighs & Legs:
Squats (regular, hack, sissy, pistol, and skater squats with balance support)
Hip Raises (lower padded roller)
Reverse Hyper Extension (upper padded roller)
Leg Extension
Leg Flexion
Heel Raises
Trunk & Neck:
Back/Hyper Extension
Planks (abdominal and oblique, arms-free using padded roller)
Leg and Knee Raises (Hanging or Support)
Crunches (Regular and Reverse using push-up bars to anchor)
Isometric Neck Extension and Flexion (using padded rollers)
Isometrics
The UXS can be used to perform a variety of additional exercises isometrically using static holds or timed static contractions, including pullover, front raise, chest fly, lateral raise, rear delt fly, arm curl, triceps extension, wrist extension and flexion, internal and external humeral rotation, and more.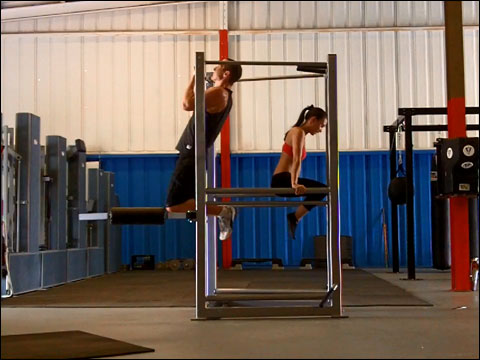 Multiple Users
A variety of exercise combinations can be performed by two or three people simultaneously, making the UXS a space efficient tool for couples and small group training. Multiple UXS can be connected by additional pull-up bars in different configurations.
Specifications
Weight: 260 lbs.
Length: 56"
Width: 40″
Height: 84.5″
Steel: 11 Gauge Tubing, 1/2″ Plate
Finish: Powder coat
Upholstery: Bacteria-resistant BoltaFlex with PreFix protective finish
Ordering
Each UXS bodyweight multi-exercise station is built to order in Orlando, Florida, USA. Completion time can vary from three to six weeks depending on the current workloads of both the shop and powder coater. Price does not include delivery. If you have questions about the UXS or would like an estimate on custom colors or volume discounts contact me at drew@baye.com
UXS Bodyweight Multi-Exercise Station: $2,499.00
Goalder Transportation will deliver your UXS to you anywhere in the contiguous forty eight states for between $300 and $400, or we can arrange for another delivery method for you.