Project: Kratos Bodyweight High Intensity Training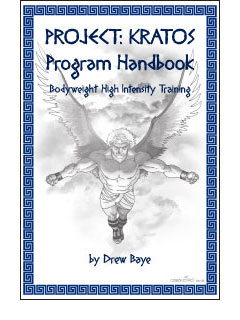 Project: Kratos – named for the Greek god of strength and power – is a bodyweight high intensity training program designed to maximize full-body strength, conditioning, and body composition, safely, efficiently, and with little or no equipment.
The Project: Kratos program handbook covers dynamic and static high intensity training protocols and practical, efficient scaling and progression system for accommodating trainees of all strength levels, full-body, body-part specialization, and metabolic conditioning workouts, and provides detailed instructions with photos for the performance of dozens of bodyweight exercises for all major muscle groups..
e-book: $25.00 (instant download)
An email with a download link will automatically be generated and sent to you immediately when you order. If you do not receive this email within a few minutes check your spam folder.
Paperback: $32.00 (plus $3 shipping inside the US and Canada, $8 International)
Table of Contents
Introduction
General Exercise Guidelines
Speed of Movement and Turnarounds
Breathing
Neutral Head and Neck Position
Exertional Discomfort versus Pain
Momentary Muscular Failure (MMF)
The Five Level Dynamic Protocol
Range of Motion
Timing
The Timing and ROM Matrix
Modifying Leverage for Short ROM Exercises
Bilateral to Unilateral Progressions
Determining Your Starting Level
Changing Levels during an Exercise
Isometrics
Static Holds
Timed Static Contraction (TSC)
Self-Timing Static Holds and Timed Static Contractions
Exercise Progressions
Pre-Exhaustion
Isochronal Progression
Couples and Small Group Training
The Workouts
Exercise Selection
Basic Workout Structure
Specialization Workouts
Workout Volume and Frequency
Workout Names
What You Need
Basic Bodyweight Training Setup
Buying Bodyweight Equipment
DIY Bodyweight Equipment
Kratos (The Basic Workout)
Chin-Up
TSC Pullover
TSC Arm Curl
Push-Up
Squat
Unilateral Squat
Inverted Row
TSC Simple Row
Pike Push-Up
TSC Lateral Raise
Prone Trunk Extension
Crunch
Upper versus Lower Abs
Heel Raise
TSC Neck Extension
TSC Neck Flexion
Zelus (The Alternate Basic Workout)
Wide-Grip Pull-Up
Parallel Bar Dip
Triceps Push-Up
Lunge
Underhand-Grip Row
Half-Handstand Push-Up
Hip Raise
Leg Raise
TSC Neck Lateral Flexion
Infimetric Neck Rotation
Cerberus (The 3×3 Workout)
3×3 Workouts for Small Group Training
Heracles (Alternate 3×3 Workout)
Inverted Curl
Body Part Specialization Workouts
Ares (Arms and Shoulders)
Zeus (Chest and Back)
TSC Chest Fly
Hermes (Legs)
UXS Leg Curl
UXS Leg Extension
Bia (Glutes and Thighs)
TSC Hip ADduction
TSC Hip ABduction
Adonis (Abs and Obliques)
Hanging Reverse Crunch
Plank
Prone Trunk Rotation
Hanging Trunk Rotation
Side Plank
Grip and Forearm Exercises
Diet and Supplements
Losing Fat
Building Muscle
Supplements
The ECA Stack and Yohimbine
Tracking Progress
Weight
Body Composition
Body Part Circumference Measurements
Comparison Photography
Workout Charts
Diet
Online Resources
Workout and Measurement Charts
Bodyweight Exercise Equipment
Useful Smart Phone and Tablet Apps
Feedback from readers:
"Baye applies sane, sensible guidelines and his exercise selections are all good ones." – Ellington Darden, PhD
"This manual is excellent!  I went to Starbucks and read this thing entirely today – well done and I cant wait for the final!"
"I like the content of your book.  Content is arranged very logically and explanations are clear and easy to understand."
"For those who utilize or are looking to utilize bodyweight workouts… this has to be one of the best ebooks/books I've ever come across. No B.S. instruction with obvious skill and knowledge on Drew's part. Qualities that many health "professionals" truly lack these days. Enough already… just buy it!"
"… it's already a load of good information for bodyweight exercise."
Exercise Links
Nutrition Links