Hello and welcome to Drew Baye's High Intensity Training! If you want to build a stronger, leaner, more muscular body you've come to the right place.
My goal with this blog is to teach you how to build muscle, lose fat, and get fit. I do that by sharing my knowledge and experience from over twenty years a personal trainer, including everything I do to help my own clients achieve their fitness goals.
Like many of you I started working out because I wanted to be stronger and more muscular, to have an action-hero body. Unfortunately, I wasted years following conventional exercise programs and methods that produced little in the way of results before learning about high intensity training. I was skeptical at first, but within six months I had transformed my body from a skinny 150 pounds to a muscular 180.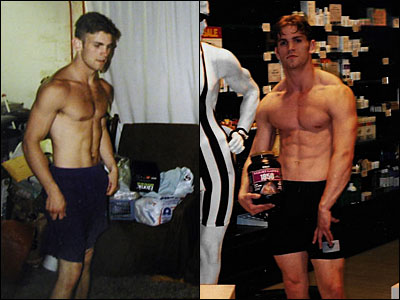 People started asking me for advice and to teach them how to train, and I found I enjoyed helping people achieve their fitness goals so much I decided to make a career of it. I moved to central Florida where I would have the opportunity to learn from some of the top experts in high intensity training from Nautilus, and started training people and writing about what I learned. Now, over twenty years later, I've helped thousands of people accomplish their fitness goals, and I hope to help you, too.
What is High Intensity Training?
What Is High Intensity Training?
How to Build Muscle:
Ten Rules For Maximizing Muscular Strength And Size
How To Correctly  Use A Barbell, And How NOT To
The Ten Biggest Bodybuilding Mistakes
Should I Focus On Fat Loss Or Muscle Gain First?
How to Lose Fat:
Estimating Daily Calorie Expenditure
Calculating The Daily Calorie Deficit For Maximum Fat Loss
Losing Stubborn Fat, Spot Reduction, And The Swimming Pool Analogy
How to Get Fit:
High Intensity Strength Training For Cardiovascular Conditioning And Fat Loss
More On High Intensity Training For Cardiovascular And Metabolic Conditioning
What Is Metabolic Conditioning?
Books on High Intensity Training by Drew Baye:
High Intensity Workouts One hundred high intensity training workouts and guidelines for performance.
Project Kratos: Bodyweight High Intensity Training Program Handbook The ultimate guide to bodyweight high intensity training.
Getting Ripped: A Short Guide To Training And Eating To Maximize Fat Loss While Maintaining Or Gaining Muscle
Timed Static Contraction Training A guide to minimalist high intensity isometric training.
High Intensity: The Annotated, Uncensored Post-Workout Delirium-Induced Ramblings Annotated, uncensored post-workout essays covering bodybuilding, fat loss, and other topics.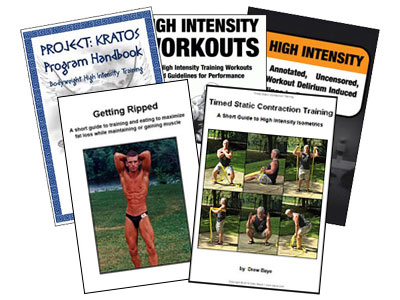 Online Training and Consultations with Drew Baye:
Do you want to be leaner, more muscular, and more fit but don't know what to do? Are you an advanced trainee struggling to overcome a plateau or an athlete wanting to optimize performance? Do you need a trainer to keep you accountable and motivated to achieve your goals?
I am available for consultations via phone or Skype and offer a variety of online training programs. To learn more about consultations and online training schedule a free 15-minute consultation and we will discuss your goals and training needs to determine which option is best for you. Get Started.