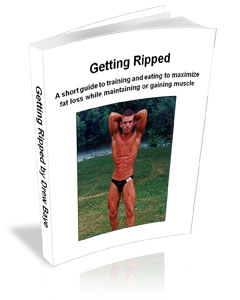 Getting Ripped is a short guide detailing the workouts and diet I used to reduce my body fat percentage to the low single digits in only eight weeks with brief, infrequent high intensity training and no "cardio." The guide includes updated training and nutrition guidelines including how to calculate your calorie and macronutrient intakes to lose fat as fast as possible while maintaining or even gaining muscle, how to calculate how long it will take you to reach your target bodyfat percentage, and how to use these numbers to develop a meal plan. A printable worksheet with these formulas is also included.
e-book: $19.95 (instant download)
An email with a download link will automatically be generated and sent to you immediately when you order. If you do not receive this email within a few minutes check your spam folder.
Contents include:
Background
The Workouts
Pace
No Warm-Up
Abdominal Exercises
Neck Exercises
Grip and Forearm Exercises
The Expanded Workouts
Repetition Speed and Repetition Count/TUL
Body Part Specialization
The Diet
Reversing Darden's Descending Calorie Diet
Estimating Daily Calorie Intake For Simultaneous Fat Loss And Muscle Gain
Calorie Deficit Versus Nutrient Intake For Obese Individuals
Macronutrients
Meal Frequency And Timing
Meal Planning
Supplements
Grocery List
Scheduling
Worksheets
Feedback
"Drew Baye's Getting Ripped guide is outstanding! Well worth the price (actually, it's a steal). A must-have if you're serious about bringing out your six pack." – Thomas