Timed Static Contraction Training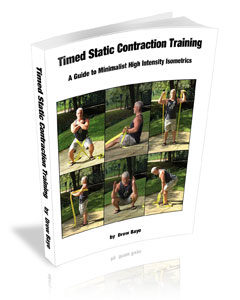 In Timed Static Contraction Training I teach you how to perform a full-body workout using the safest and most effective isometric high intensity training method and nothing but length of heavy-duty tie-down or towing strap. The guide includes a detailed explanation of the protocol and the set-up and performance of each exercise, along with information on:
Overcoming vs Yielding Isometrics

TSC vs Traditional Isometrics

Disadvantages and Solutions

Detailed TSC Performance Guidelines and 

Safety Considerations

Strength Transfer

Performing TSC with Machines and  Free Weights

Cardiovascular and Metabolic Conditioning

Flexibility and 

How to Stretch

Reactionary Force and Stabilizer Involvement in TSC

Pre-Exhaustion with TSC

TSC and Static Hold Hybrids (TSC/H)

Isometrics and Explosive Power

e-book: $19.95 (instant download) An email with a download link will automatically be generated and sent to you immediately when you order. If you do not receive this email within a few minutes check your spam folder.