High Intensity Workouts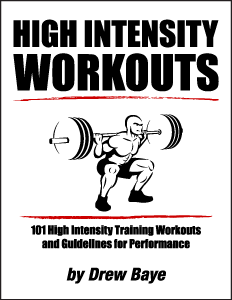 High Intensity Workouts was written in response to the large number of requests I receive for workouts and routines. It contains 101 workouts, including full body, various splits, body part specialization, consolidation, and a few of my personal favorites, as well as general guidelines for performance and tracking. I also discuss "condensed" versus traditional pre-exhaust and why it is more effective for stimulating muscular strength and size gains.
Ebook: $15 (instant download)
An email with a download link will automatically be generated and sent to you immediately when you order. If you do not receive this email within a few minutes check your spam folder.
Table of Contents
Introduction and General Exercise Performance Guidelines
Exercise Selection
Equipment Selection
Training with Body Weight Only
Exercise Order
Warming Up
Rest Between Exercises
Workout Frequency
Keeping Track
About The Workouts
Neck and Grip Exercises
Abdominal & Low Back Exercises
Full Body Workouts
Consolidation Workouts
Split Routines
Body Part Specialization Workouts
Metabolic Conditioning Workouts
Workouts with Limited or No Equipment
Personal Favorites
Thank You
Feedback
"Great book, great workouts! I'm a little hesitant with ebooks, because most of the ones I've ordered are a total ripoff (little content, way over-priced). This one is by far the best I've seen. These workouts will keep my training fresh for many many months/years. Thanks!"
- Brian
"Got the e-book and upon first glance Drew, it looks fantastic. I doubt too many people will appreciate what they received. They will only see the routines and hopefully will be thankful and apply them successfully. I see the years of reading and research that had to precede the compilation of those routines and for that I am thankful."
- Bryan Frederick
"I would definitely give "High Intensity Workouts" a thumbs up. Inexperienced lifters will find this book to be an informative roadmap for their training, and experienced lifters can use it as checklist or motivation."
- Jim Mardis