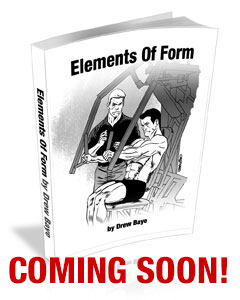 UPDATE: Due to slow progress with my current schedule and to ensure the final book meets my standards the release of Elements of Form has been delayed until January 2018 Notifications will be sent to everyone who pre-ordered to confirm delivery information then.
Elements of Form teaches the principles behind and provides guidelines for every aspect of general exercise performance, as well as guidelines for when and how to perform a variety of common high intensity training protocols and techniques.
Just a few of the topics covered include;
The real objective of exercise
Proper mindset during exercise
Positioning and alignment
Path of motion
Range of motion
Speed of motion
Proper technique for different types of upper and lower turnarounds
Compound versus simple movements
Proper grip during pulling, pushing and other types of movements
Forced reps, forced negatives, drop sets and other training techniques
Negative only, negative accentuated and negative emphasized training
Hyper training
SuperSlow, 30/30/30 reps and other very slow repetition methods
The different types of Rest-Pause training
Static Hold, Timed Static Contractions and other isometric methods
Explanations of Infimetric, Duo-Symmetric Poly-Contractile, Akinetic, and other traditional Nautilus protocols
e-book only: $39.95 (instant download)
An email with a download link will automatically be generated and sent to you immediately when you order. If you do not receive this email within a few minutes check your spam folder. The e-book can not be printed. If you want a hard copy of the book choose the print and e-book option.
print and e-book: $46.95 (plus $5 shipping within the United States and Canada, $10 international)
Print books usually ship within a day or two of ordering, via USPS First Class or First Class International Mail. You will receive an e-mail notification from the printer when your book ships.
Pre-Ordering has ended. Elements of Form will be available for regular purchase after release. In 2018 a companion video series will be produced. All who pre-ordered and who purchase Elements of Form within one month of its release will receive a discount on these videos.