Quick and Easy Two-Ingredient Protein Drink
My brother David recently suggested a recipe for a quick, easy protein drink that has more protein and tastes better but only costs about half as much as many store-bought protein drinks (around $2 per serving). It contains only two ingredients which you can find in most grocery stores (Walmart currently carries both):
One cup of Fairlife chocolate reduced-fat milk
One cup of All Whites 100% liquid egg whites.
The Fairlife chocolate milk has more protein per cup than average but only thirteen grams of carbohydrates and tastes great. The liquid egg white is heat pasteurized and safe to drink, and has no noticeable texture or flavor when mixed with the chocolate milk. You don't need a blender or a special mixing bottle either; just stir with a spoon and it's ready to drink.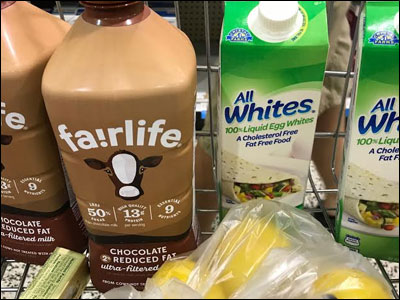 I usually don't even bother to stir it; I just pour them both into a glass and they mix together just fine. For about two bucks and less than a minute of prep time (get a glass, pour the stuff in, you're done) you get a little over thirty nine grams of protein, but only around two hundred and fifty calories, thirteen grams of carbohydrate, and less than five grams of fat.
It's a great pre or post workout drink and a substitute for when you either don't have time or don't feel like making a regular meal. It's also a good way to get a child to consume more protein if they're a picky eater (or if you just suck at cooking meat).
If you've got a favorite quick and easy high-protein drink or snack recipe please share it in the comments below!