The Nautilus Bulletins are high intensity training classics by Arthur Jones, inventor of the Nautilus exercise machines, which explain the principles of his philosophy of hard, brief and infrequent training.
The Nautilus Bulletins 1 and 2 e-books are free for personal use but may not be republished or distributed on another web site or as part of any commercial product without my prior written permission.
They require the free Adobe Acrobat reader to view. Click here to download the free Acrobat reader.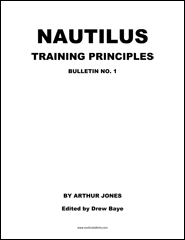 Nautilus Training Principles: Bulletin No. 1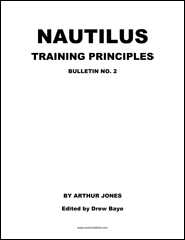 Nautilus Training Principles: Bulletin No. 2
A Three-Volume set containing Nautilus Training Principles: Bulletins No. 1, 2 and 3 is also available for purchase in the High Intensity Training Store. These high intensity training classics by Nautilus inventor Arthur Jones cover every aspect of training from the specifics of exercise performance to the general principles of program design. Whether you're a bodybuilder, athlete, or just want to lose fat or improve your general health and fitness, the information you need is covered here.