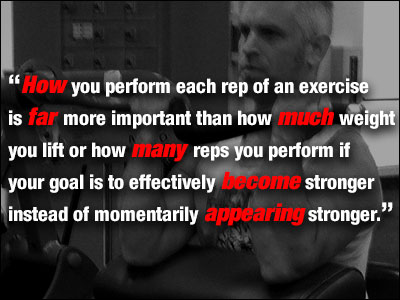 How To Get Better At An Exercise
"The first sign of maturity for people that train is when they stop caring about how much they lift and start caring about how well they lift."
– Amir Siddiqui
People often ask me how they can get better at an exercise. In almost every case, they are thinking about it backwards. They want to know how to increase the reps they can perform or the weight they can lift, but that is not what it means to be better at an exercise. They're confusing getting stronger or being better at demonstrating strength with the real goal of an exercise which is to effectively stimulate increases in strength. Exercise is something you do to your muscles with the weight, not something you do to the weight with your muscles.
The purpose of exercise is to efficiently load and fatigue the targeted muscles, to work them as intensely as possible. Lifting and lowering a weight is just a means to that end. The better you are at an exercise, the better your form, the harder it becomes. To perform more reps or lift more weight in a specific manner you must become stronger, which is an entirely different thing than being better at an exercise.
Understanding the difference between the two is the most important part of learning to exercise properly. Almost all of the things people do wrong during exercise stem from confusing the two. Most people break form because they are focusing on how much weight they can lift or how many reps they can  perform instead of how well they perform them. How you perform each rep of an exercise is far more important than how much weight you lift or how many reps you perform if your goal is to effectively become stronger instead of momentarily appearing stronger.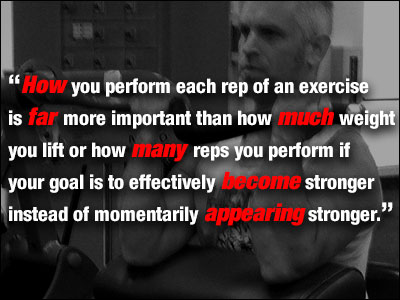 If you want to get better at an exercise:
Start by thinking about the above every time you work out until you habitually focus on what you are doing to your muscles instead of what you are doing to the weight. When you do an exercise concentrate on intensely contracting the target muscles and producing the correct body movement. To paraphrase Ken Hutchins, "…the correct approach is to internalize… to think and to behave to make the body perform the proper action. The weight is relegated to merely go along for the ride."
When learning a new exercise instead of trying to determine the heaviest weight you can lift for your target rep range, start with a weight that is only moderately challenging and learn how to use it to make the exercise feel harder. If doing something a particular way makes the exercise feel easier do the opposite.
If you frequently catch yourself focusing more on the number of reps than the quality use a stopwatch to time your exercises instead of counting or have a training partner or trainer silently count your reps for you (and only count the good ones). This will allow you to focus more on how well you perform each rep and worry less about how many you do.
A workout is not a weight lifting competition. Your immediate goal is not to beat your previous weight or reps; it is to perform each exercise safely and effectively to stimulate increases in strength and improvements in the supporting factors of functional ability. Somewhat ironically, if you are overly concerned with making the numbers on your chart go up and cheat to do so your workouts will be less effective and your actual strength will go up more slowly. If you focus on performing each exercise as effectively as possible instead, the numbers might not go up as quickly because better form equals harder exercise, but you will get stronger faster.
If you work out in a public gym ignore everyone else; don't compare yourself to others and don't concern yourself with what they think of you. If you become better at cheating on an exercise to lift more weight it might make you appear stronger than you really are to other people in the gym who don't know any better, but this skill is specific to the exercise and does not transfer to any other activity. On the other hand, if you really become better at an exercise – if you become more skilled at efficiently loading the target muscles – your real strength and conditioning will improve faster and does transfer to everything else you do.