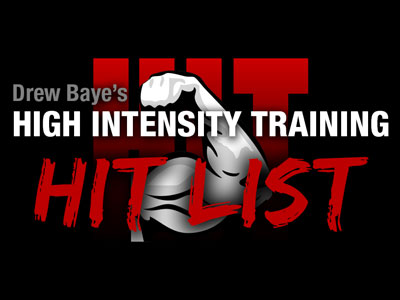 The HIT List is a private, members-only Facebook group for discussion of high intensity training and other topics related to improving physical health, fitness, and appearance with HIT expert Drew Baye. Members will be able to participate in weekly live video Q&A sessions and have exclusive access to new videos on a variety of exercise and nutrition related topics posted every week.
To keep the forum running smoothly members must follow a few simple rules:
1. Keep an open mind. None of us knows everything about the subject.
2. The burden of proof is on the person making a claim. If you make an assertion it is up to you to back it up.
3. No personal attacks or flame wars. You can challenge someone's logic, evidence, sources, or premises, but if you do so you must present your own and a clear basis for your challenge.
4. No trolling. Posts or comments that are deliberately offensive or intended to provoke anger will be removed.
5. No spam. Unauthorized commercial posts will be removed.
6. No reposting or sharing content originating in The HIT List elsewhere in any form without the author's permission.
7. You must use your real name to post, comment, or participate in live video discussions.
By joining The HIT List you agree to the above.
Your first week is free. After your free week you will be billed either $9.95 monthly or $99.95 per year. Within twenty four hours of your subscription an invite to The HIT List will be sent to the email or Facebook username you provided and you will have access to the discussion forum and videos.
Facebook group link: https://www.facebook.com/groups/highintensitytraining/
If at any time you wish to cancel your membership you can do so using the button below:
If you have a HIT List Founder membership cancel with the button below instead: