Nautilus Training Principles 1-3
The materials here are free for both personal and commercial use by exercise and health professionals and facilities, but may not be republished or distributed on another web site or as part of any commercial product without my prior written permission.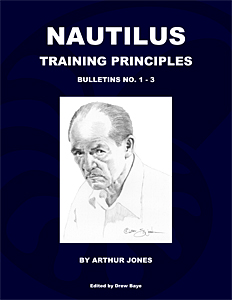 This Three-Volume set contains Nautilus Training Principles: Bulletins No. 1, 2 and 3. These high intensity training classics by Nautilus inventor Arthur Jones cover every aspect of training from the specifics of exercise performance to the general principles of program design.
My goal when editing this edition of the Nautilus Bulletins was to organize and layout the material for an annotated edition with one table of contents and index for each of the three Bulletins, as well as minor changes to formatting and punctuation for better readability. I decided to make this edition available separately for those interested in Arthur's original writing without comments from myself or others.
No changes have been made to Arthur's words; only to typography, formatting and layout. The Nautilus Bulletins were originally composed on a typewriter with limited typographical and formatting options requiring the use of typographic effects like WRITING IN ALL CAPS for emphasis where bolding would now be used or using hyphens in place of en and em-dashes. These types of things as well as the layout of numbered lists and tables have been changed to improve readability.
Appendixes were also added to organize information appearing in multiple chapters into one place for convenience. They contain the routines from all three Bulletins and the complete list of Arthur Jones' "basic points" from Bulletin 2 chapters 25 to 33.
Whether you're a bodybuilder, athlete, or just want to lose fat or improve your general health and fitness, the information you need is covered here.
FREE ebook: Nautilus Training Principles 1, 2, and 3 by Arthur Jones
Print book: $49.99 (plus $5 shipping within the US, $15 International) Print books usually ship within a day or two of ordering, via USPS First Class or First Class International Mail. You will receive an e-mail notification from the printer when your book ships.
Table of Contents
Foreword by Drew Baye. 1
Nautilus Training Principles: Bulletin No. 1
Chapter 1: An Introduction and a Brief Background. 5
Chapter 2: Basic Physics of Conventional Exercise Methods. 7
Chapter 3: The Functions of Muscular Structures. 13
Chapter 4: Indirect Effect. 17
Chapter 5: Frequency and Extent of Exercise. 19
Chapter 6: Intensity of Effort. 21
Chapter 7: Cam Action. 25
Chapter 8: Full Squats—Pro and Con. 27
Chapter 9: Compound Exercises versus Specialization. 29
Chapter 10: Irregularity of Exercise. 33
Chapter 11: Inducing Growth Stimulation. 35
Chapter 12: Secondary Growth Factors. 39
Chapter 13: The Limits of Muscular Size. 43
Chapter 14: Reciprocity Failure. 45
Chapter 15: Strength and Endurance. 47
Chapter 16: Speed as a Factor. 49
Chapter 17: Accurately Measuring Power Production. 53
Chapter 18: "Warming-Up" Properly. 57
Chapter 19: Superstitions and Myths. 59
Chapter 20: The "Instinctive Training" Theory. 61
Chapter 21: Growth Drugs. 63
Chapter 22: Ranges of Movement—Flexibility. 65
Chapter 23: Average Expectations from Training. 67
Chapter 24: Professional Medical Attitudes on Training. 71
Chapter 25: The Significance of Muscular "Pumping". 73
Chapter 26: The Significance of Muscular Soreness. 75
Chapter 27: "Break-In" Training. 77
Chapter 28: Age as a Factor. 81
Chapter 29: Time as a Factor. 83
Chapter 30: Developing Speed and Flexibility. 85
Chapter 31: Muscular Proportions. 87
Chapter 32: Layoffs from Training. 89
Chapter 33: "Sticking Points" In Training. 91
Chapter 34: Confidence. 93
Chapter 35: The Significance of Measurements. 95
Chapter 36: Charting Progress. 97
Chapter 37: The Pre-Exhaustion Principle. 99
Chapter 38: The Harder It Seems—The Easier It is. 103
Chapter 39: Conclusions. 105
Chapter 40: The Nautilus Principles. 109
Chapter 41: The Next Step. 113
Chapter 42: Deland High School Training Programs. 117
Chapter 43: Training With Conventional Equipment. 119
Chapter 44: Recent Developments. 123
Nautilus Training Principles: Bulletin No. 2
Chapter 1: Basic Considerations. 127
Chapter 2: Commercial Bias. 131
Chapter 3: Personal Involvement. 133
Chapter 4: The Name of The Game. 135
Chapter 5: Diet. 137
Chapter 6: A Few Simple Facts. 141
Chapter 7: Self-Evident Truth. 145
Chapter 8: Strength and Muscular Endurance Factors. 149
Chapter 9: Barbells—Pro and Con. 151
Chapter 10: Time Factors In Exercise. 155
Chapter 11: The Psychology of Bodybuilders. 161
Chapter 12: The "Mister Nautilus" Contest. 165
Chapter 13: The Real Value of Weight Training. 167
Chapter 14: The Drug Scene in Bodybuilding. 169
Chapter 15: Weight Training for Women. 171
Chapter 16: Muscular Potential and Heredity. 173
Chapter 17: Muscular Function. 177
Chapter 18: Four Steps. 181
Chapter 19: Barbells versus Exercise Machines. 183
Chapter 20: Direct Exercise. 185
Chapter 21: The Recovery Factor. 189
Chapter 22: Individuality. 193
Chapter 23: It Won't Happen Here. 195
Chapter 24: A Natural Mistake. 197
Chapter 25: The First Step Towards Understanding. 201
Chapter 26: The Second Step. 207
Chapter 27: The Third Step. 211
Chapter 28: The Fourth Step. 215
Chapter 29: The Fifth Step. 219
Chapter 30: The Sixth Step. 223
Chapter 31: The Seventh Step. 227
Chapter 32: The Moment-Arm Factor. 231
Chapter 33: Fuel-Air Factors. 239
Chapter 34: A Simple Example. 247
Chapter 35: Advanced Training. 251
Chapter 36: The Ultimate Physique. 257
Chapter 37: Proper Form.. 261
Chapter 38: What to Expect. 263
Chapter 39: A Realistic Goal 265
Chapter 40: The Present State of The Art. 267
Chapter 41: The Next Step. 273
Nautilus Training Principles: Bulletin No. 3
Chapter 1: What to Expect from Exercise. 277
Chapter 2: The Correct Amount of Exercise. 281
Chapter 3: The Best Type of Exercise. 285
Chapter 4: The Two Most Important Factors in Exercise. 289
Chapter 5: How Much Should an Athlete Weigh?. 291
Chapter 6: The Relationship of Muscular Size to Strength. 295
Chapter 7: Avoiding Injury and Preventing Injury. 301
Chapter 8:  How to Get the Best Results from Exercise. 305
Chapter 9: Improving Flexibility. 309
Chapter 10: Increasing Speed. 313
Chapter 11: Improving Endurance. 317
Chapter 12: Why Exercise Increases Strength. 323
Chapter 13: Stimulating Growth. 327
Chapter 14: Permitting Growth. 331
Chapter 15: The Colorado Experiment Part 1—Purpose of the Experiment. 335
Chapter 16: The Colorado Experiment Part 2—Background of the Experiment. 339
Chapter 17: The Colorado Experiment Part 3—Conduct of the Experiment. 343
Chapter 18: The Colorado Experiment Part 4—Results of the Experiment. 353
Appendix 1: Routines. 359
Appendix 2: Basic Points. 365