Ivanko Super Gripper Resistance Chart
The materials here are free for both personal and commercial use by exercise and health professionals and facilities, but may not be republished or distributed on another web site or as part of any commercial product without my prior written permission.
Many of the charts, graphs, forms and worksheets require the free Adobe Acrobat reader to view. Click here to download the free Acrobat reader.
About the Ivanko Super Gripper Resistance Chart
This chart was designed as a convenient reference for adjusting the resistance on the Ivanko Super Gripper. It lists the approximate force required to close the gripper with different spring settings as well as the settings to approximate the resistance of each of the Captains of Crush grippers.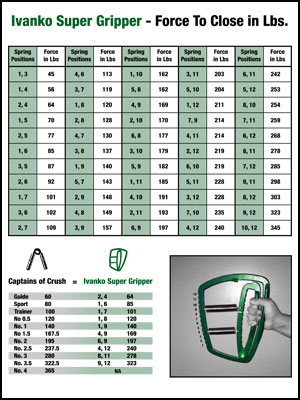 Ivanko Super Gripper Resistance Chart
Requests and Custom Design Work
If you request a chart, graph or worksheet I think will be generally useful to readers I will design it when I have time. If you need something specifically for your gym, personal training studio, sports team or other group contact me at drew@baye.com