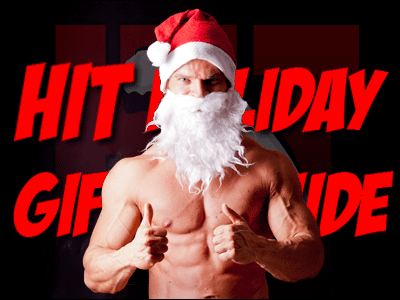 2017 HIT Holiday Gift Guide
Are you having difficulty finding the right holiday gifts for your favorite HIT'ers or your own holiday wish list? Here are some gift ideas based on my recommendations over the past year to family, friends, and clients.
This is a work in progress, and more items will be added over the next few days. All prices were accurate at the time this guide was posted but may change.
Gifts under $25
I don't recommend using straps, hooks, or other grip aids unless absolutely necessary, and if they are necessary then strengthening your grip should be a high priority (assuming the problem is muscular weakness and not an injury or neurological problem) However, if you do need straps the IronMind Sew-Easy Lifting Straps ($18.95) are quick and easy to use and do the job well.
An adjustable 2″ Web Belt with a Side Release Buckle ($9.00) is a highly versatile piece of equipment. It can be used for many timed static contraction exercises including neck flexion and extension and shoulder and hip abduction. It can be used to limit weight stack or movement arm travel on some machines to perform TSC. It can also be used in place of a seat belt on some machines that should have them but do not.
The Forearm Forklift moving straps ($19.99 to $24.99) are also great for a wide variety of timed static contraction exercises including TSC belt squats, deadlifts, chest and shoulder presses, rows, pulldowns and more. The multiple, padded loops can be used for gripping, looped around the wrists, arms, or ankles, securing the strap under the feet, or for restraining the movement of free weights and some machines for TSC/SH hybrid protocols.

Gifts under $50
The Ivanko Super Gripper ($32.50) is hands down (pun intended) my favorite gripper. It provides over fifty levels of resistance from about 45 up to 345 pounds and the tension feels more consistent than with torsion spring grippers like the Captains of Crush.
Olympic Fractional Weight Plates ($36.95) are essential for precise resistance progression when training with barbells. Every gym should have these, and if yours doesn't you should have your own set to bring with you to work out.
Fat  Gripz ($39.00) increase the diameter of regular barbells and dumbbell grips to challenge your grip. They can also be used to reduce hand discomfort on many pushing exercises. I recommend using a thick bar or Fat Gripz for wrist curls and wrist extensions because it reduces the degree of finger flexion required to grip the bar. This prevents active insufficiency of the wrist and finger flexors during curls and passive insufficiency during extensions.
Plate Mates 1-1/4 Pound Magnetic Hex Weights ($34.95 per pair) allow you to increase the weight of uncoated metal dumbbells by 1-1/4 (offset) to 2-1/2  pounds at a time for more precise resistance progression. Buy two pairs so you can use them on two dumbbells at a time.
Gifts under $100
When properly performed weighted chin-ups and dips are two of the best upper body muscle builders, and while it is possible to make these exercises more challenging by manipulating leverage and timing, it is simpler and more straight forward to add weight using a dipping belt. The IronMind Dipping Belt ($76.95) is more comfortable than most with a heavy weight, and the nylon strap doesn't dig into your thighs like chains do. It is even more efficient when used with a Loading Pin and Carabiner ($61.95) instead of looping the strap through plates.
Gifts under $500
I've been using the Bowflex SelectTech 552 Adjustable Dumbbells ($259.00 per pair) and the SelectTech 1090 Adjustable Dumbbells ($269.99 single) for several years now and highly recommend them for home training due to their space efficiency, fast and easy adjustability, and small progression increments.
If you get them I also recommend one of the newly redesigned SelectTech Dumbbell Stands ($169.00) which hold both the 552s and 1090s at a convenient height.
Drew Baye's High Intensity Training is a participant in the Amazon Services LLC Associates Program, an affiliate advertising program designed to provide a means for us to earn fees by linking to Amazon.com and affiliated sites.